Email and Facebook ads have been the pillars of marketing, customer engagement and retention for D2C in the past decade, but the efficiency of these tools is going down
On the other hand, 80% of messages sent on WhatsApp are seen within five minutes, presenting D2C brands with a quick, two-way communication channel
During Inc42's D2C Summit, BiteSpeed's Vinayak Aggarwal elaborated on why brands must leverage WhatsApp as a core part of their communication/marketing channel mix to reduce CAC and increase LTV
In a fast-paced world, consumers place a high value on the quick functioning of direct-to-consumer (D2C) brands, which often reflects the latter's core agility to deliver value and convenience. Quick checkouts, timely deliveries, fast returns and round-the-clock communications help build consumer confidence and loyalty towards these brands.
Amid these factors, digitally driven D2C businesses get a significant boost by zeroing in on effective customer communications. The promptness from a customer-focussed entity at every step of the shopping journey goes a long way in building a successful brand narrative.
There is one glitch. Consumers today are no longer glued to email or digital ads on good old social media platforms like Facebook for communication or marketing pitches. Compelled to change tack in sync with their users, new-age brands have turned to universal and user-friendly messenger apps like WhatsApp.
Speaking at the third edition of the D2C Summit hosted by Inc42, Vinayak Aggarwal, founder and CEO of Delhi NCR-based BiteSpeed, further elaborated on how brands could utilise WhatsApp to reduce customer acquisition cost (CAC) and increase customer lifetime value (LTV), why assisted buying is key to conversational selling and more.
Incidentally, his SaaS startup BiteSpeed also helps ecommerce brands leverage conversational commerce to ensure smooth dialogues and better sales.
Before we delve deeper into the impact of conversational commerce on brands, here is a quick look at how things started.
Over the years, the world has seen a marked change in how people communicate. Chat/instant messaging has replaced phone calls and SMSes, spawning many more similar apps. Among these, Meta-owned WhatsApp has emerged as a clear leader, with 2 Bn+ unique active users worldwide. As for engagement, WhatsApp claims that globally, its users send 100 Bn messages every month.
India took to WhatsApp in a big way and soon became its biggest market, with 493 Mn users. The number is expected to reach 795 Mn by 2025.
To make use of this phenomenal traction, WhatsApp Business was launched in 2018. Once again, India emerged as its largest market with more than 15 Mn monthly active users (read businesses). Most of these companies use the chat app to engage and interact with their customers to foster user loyalty and drive ROIs.
Aggarwal, an industry veteran who has worked with more than 2K brands, believes that the trend is here to stay and using WhatsApp as a core part of one's communication/marketing channel mix will increase sales by 10-20%.
Watch Vinayak Aggarwal, founder and CEO of BiteSpeed, explain how the future of D2C shopping is conversational and how brands can leverage WhatsApp to grow sales by 20%.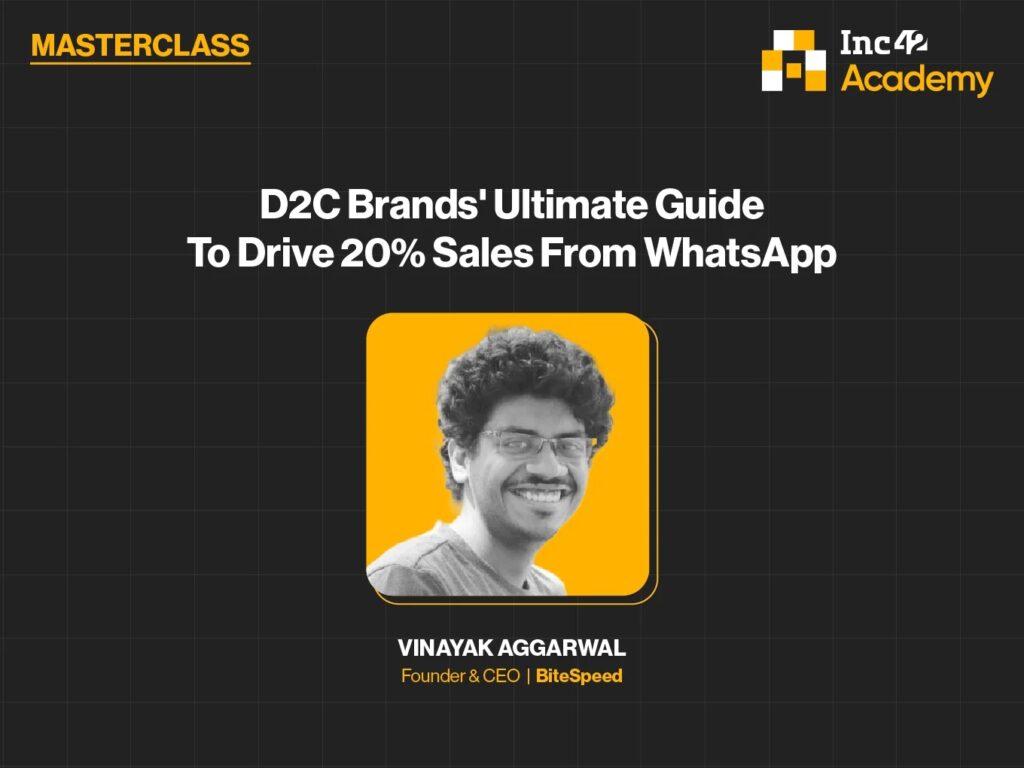 The Future Of Commerce Is Conversational
From daily essentials to fashion, home décor, electronics and more, consumers today can buy almost everything online from numerous brands. With the competition toughening, what can D2C brands do to keep consumers returning to their platforms?
According to KPMG, 52% of consumers' purchase decisions depend on the experience they expect from brands.
But now that the capital inflow into startups has slowed in the wake of a funding winter, D2C brands have to rethink their growth-at-all-costs strategy. A steady decline in hitherto effective marketing tools like email and Facebook ads is not helping either, and brands end up spending more on customer acquisition without a matching LTV.
In contrast, about 80% of the messages sent on WhatsApp are seen within five minutes, providing D2C brands access to fast-paced, two-way communication.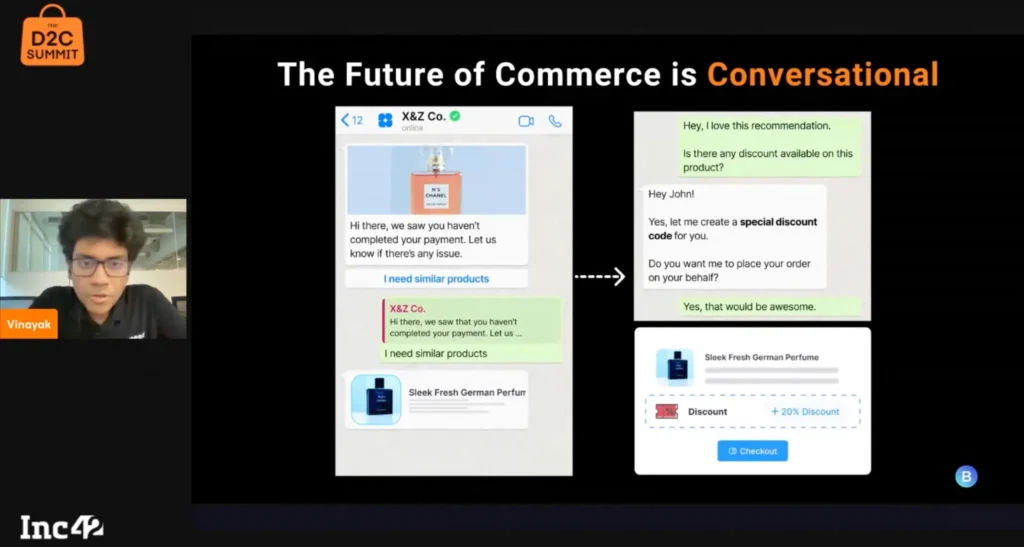 The benefits are many.
Take, for instance, cart abandonment, a major pain point for D2C brands (or all ecommerce brands, for that matter). Here, the key reasons include a change of mind as consumers find better pricing elsewhere, payment failure, non-inclusion of convenient payment methods and more.
Typically, D2C brands retarget abandoned carts through email reminders or push notifications via apps, among other methods. But users often put notifications in silent mode, and mail from brands may easily go unread as people tend to receive hundreds of email messages every day. Worse still, these may get deleted without being opened.
Things could be different on an interactive communicable channel like WhatsApp.
Besides abandoned carts, brands can also use WhatsApp to retarget abandoned checkouts and do more. They can get creative with their messages and make things more engaging by using pop-culture references, GIFs, memes and puns.
Since these messages are usually sent a few hours after the user has last been on the D2C platform, sending relevant images will help with the product recall. According to Aggarwal, this leads to a 10% conversion rate but can go up to 20%.
While many D2C brands use WhatsApp to send post-transactional messages, Aggarwal believes there is one more way to engage with consumers.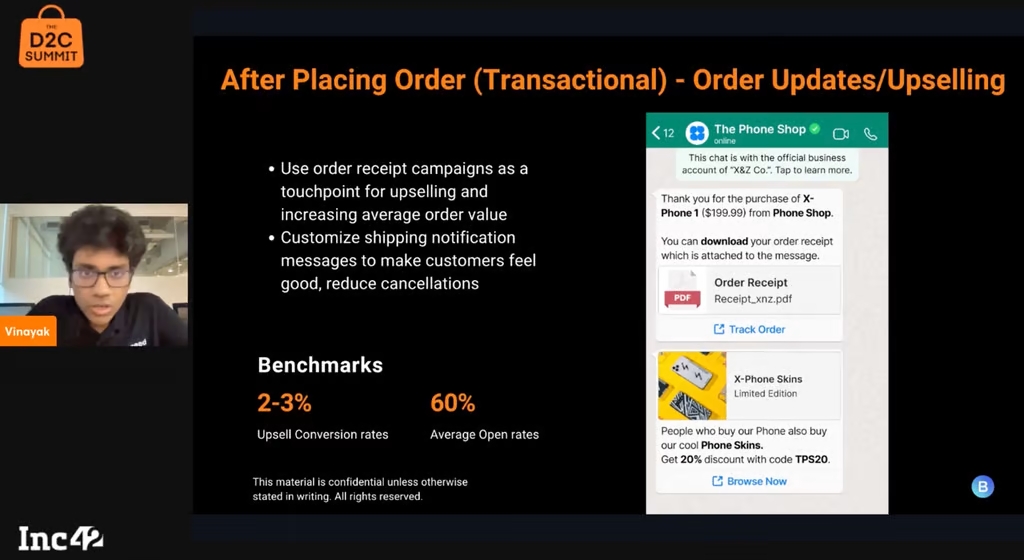 "Brands must not waste the opportunity to upsell, cross-sell or even convert a customer's COD order to prepaid. For example, one can suggest complementary products such as a screen guard or a mobile cover to someone who just bought a phone or offer discounts to complete the payment online," he added.
Key Measures To Power Customer Retention, Engagement
Customer retention plays a significant role in reducing CAC in the long run. The usual methods involve mailing the consumer base about upcoming sales, product launches, deals and discounts, enticing them to shop once more. But these messages usually end up in spam folders and rarely lead to repeat purchases.
Therefore, brands keen to keep the interaction conversational favour broadcast messaging (sending a message to several contacts at once) in the era of WhatsApp marketing.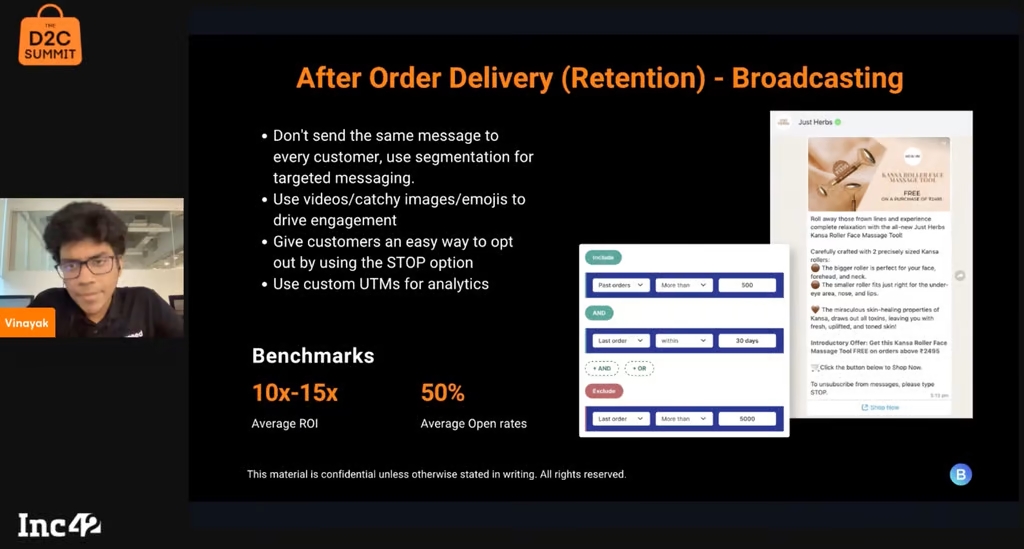 "Conversion rates for broadcast messaging on WhatsApp are great, and we see 10-15X ROI. However, it may not continue for long because everyone will be doing it. So, the way to stand out to your user base is to focus on personalising your messages," said Aggarwal.
Here, segmentation is critical. Segmentation refers to bucketing customers into smaller groups based on demographics, interests, browsing habits, shopping history and other parameters.
Another critical use case of WhatsApp marketing is asking the customer to review a product.
Every brand is constantly looking to improve its product offerings, and customer feedback plays a vital role in understanding what needs changing. But most people rarely revisit D2C platforms to post their reviews. WhatsApp can thus act as a suitable trigger to garner those reviews.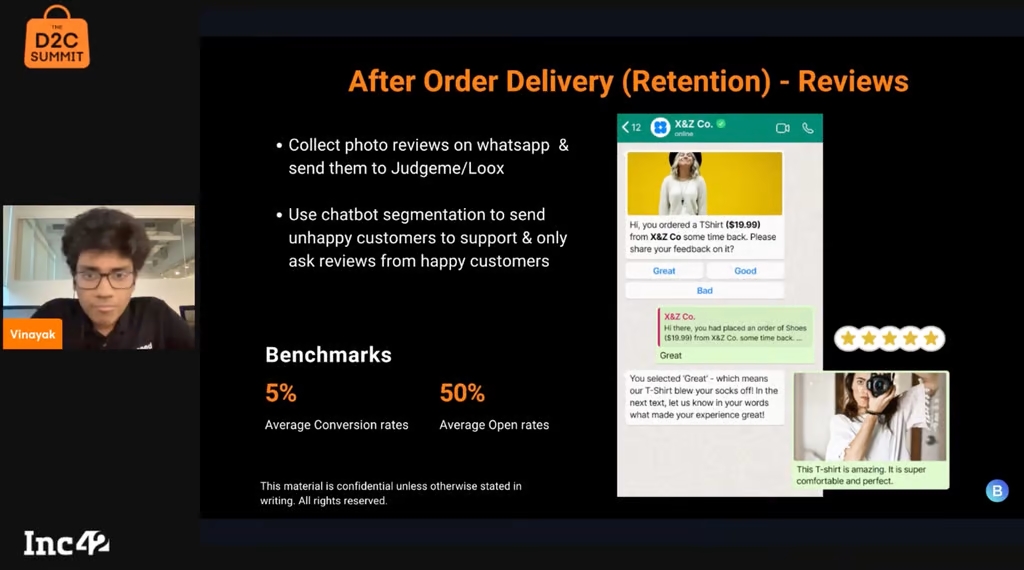 What's more, brands can incentivise shoppers for those reviews. One can message consumers and invite them to review a product that will earn them discounts on their next purchase. Consumers just have to whip out their phones, take photos, write a line or two and send them across. Brands can then upload these reviews on their platforms to gain traction from existing and new consumers.
According to Aggarwal, brands see a 5% average conversion rate (for example, receiving 50 reviews for every 1,000 messages sent) in this way compared to email (1-2%).
The Next Phase In Ecommerce Evolution: WhatsApp Shopping
As the saying goes, change is the only constant in a fast-evolving world, and one must sync accordingly to stay ahead of the curve. So, it is not surprising that in an always-on, digital-first economy, D2C brands are constantly looking for the next big thing in ecommerce, and WhatsApp is preparing to meet new requirements.
Consider this. The oil-to-telecom conglomerate Reliance Industries (RIL) recently took its partnership with WhatsApp a notch higher. The messaging app will now provide an end-to-end shopping experience for JioMart customers. Simply put, they can browse through JioMart's entire grocery catalogue, add items to their carts and, most importantly, pay on WhatsApp. Besides WhatsApp Pay, consumers can also opt for COD and other payment methods.
This take on ecommerce shopping is still new, but it may not take too long to become mainstream.