With 200 mg of caffeine stocked in a single sachet of 20ml, the Ragers will experience the ultimate caffeine kick with every cup
Just three easy steps are required for a delectable cup of coffee
Rage Coffee, a Delhi-based caffeine innovation FMCG company that manufactures, markets, and distributes innovative packaged caffeine-related products, has announced the launch of its 20 ml coffee sachets. The innovatively mobile packaging takes scanty space and spreads happiness through a cup of delicious filter coffee laced with 200 mg of caffeine, which provides an instantly electrifying effect to your senses. With a stronger and smoother concoction that has a 10X concentration of caffeine and no bitterness, it will take three easy steps to prepare a piping hot cup of coffee.
The easiest and most convenient way to sip your favorite beverage includes taking your mug and pouring out all the filter coffee concentrate from the 20-ml sachet into the mug. The second step entails adding hot milk, mixing it well with the concentrate, and adding some sugar if needed. The third and final step consists of pouring the concoction of milk and coffee back and forth from one mug to another to achieve a dreamy layer of froth. Voila! Your delightful cup is ready to fuel your day. The rich and aromatic coffee sachets come packed in an elegantly styled box that has five servings of 20 ml sachets.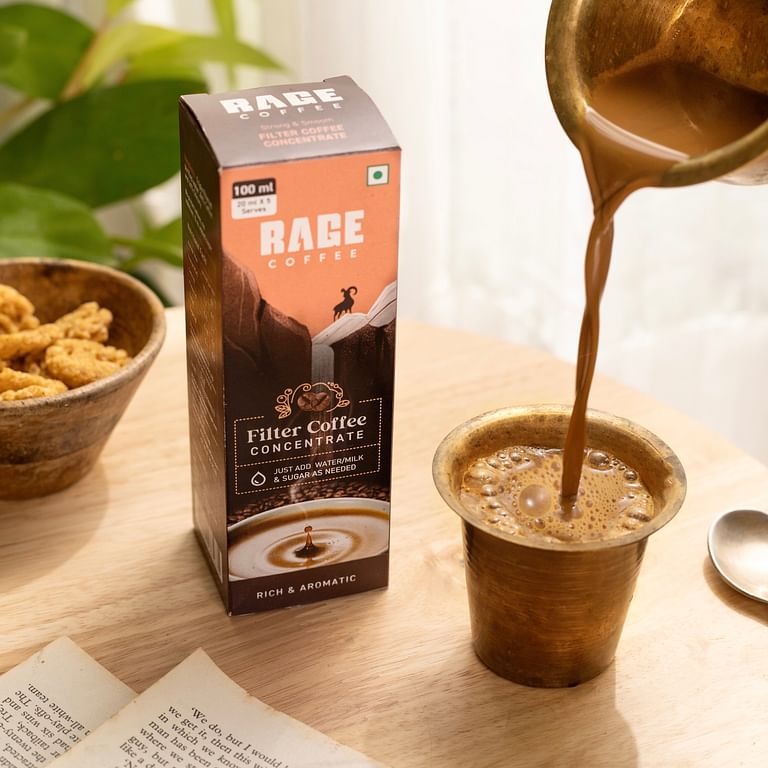 Articulating his thoughts on the launch of the new product, Bharat Sethi, founder and chief executive officer, Rage Coffee, says, "Our brand is consumer-backed to the core by our beloved Ragers; therefore, our main objective is to always bring new ideas to the table that can excite them. Our new coffee sachets are for every coffee lover around the country who craves a powerfully caffeine-stocked cup of a creamy coffee on the go. It is the easiest and most convenient way to enjoy a cup of caffeinated bliss in just three easy steps. We couldn't be more excited about this launch, and we look forward to developing even more innovative products for our customers this year."
Rage Coffee, one of the country's fastest-growing FMCG brands, also entered into the healthy snacking segment recently with the launch of three exciting new snacks – Coffee Peanut Bars, Caffeine Almond Bars, and Chocolate Oats Cookies. These products provide consumers with apt options in the healthy snacking category as all of them are gluten-free, crafted with natural premium ingredients, and contain no preservatives or colorants. These snacks are very handy and have been created for the fitness age, where they can be consumed on the go.
Rage Coffee is India's first 100% plant-powered coffee infused with six plant vitamins. Made using 100% Arabica beans sourced from some of India's most renowned plantations, Rage Coffee is the tastiest way to seize the day and comes in nine exciting flavors and Caffeine based bars and cookies. One of the fastest-growing FMCG brands in India, the company is backed by ace Indian cricketer Virat Kohli.