House of Veda, one of the leading health and Wellness brands, expands its portfolio by exploring two new categories – Organic cold-pressed oils that are rich in natural antioxidants that promote bodily health and organic pulses, which are a daily need product for a healthy and energetic life.
With the growing inclination towards a healthy lifestyle, people are opting for cold-pressed oils and organic pulses and ditching regular/refined oils and polished pulses to maintain the optimal functioning of their hearts and body. The addition by the House of Veda has been made to meet the demands of new-age consumers who are always looking for healthier options in the category.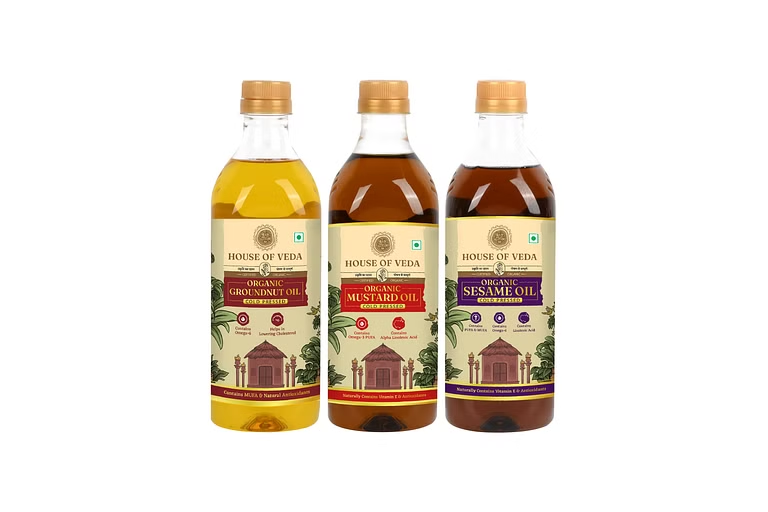 House of Veda's Organic Cold pressed oils to come in four variants – Organic Groundnut Oil is extracted from high-quality organic groundnuts of Gujarat with cold pressed technique. Organic Mustard Oil is extracted from mustard seeds, that are taken from Rajasthan and are naturally processed. Organic Sesame Oil is extracted from Rajasthan's organically grown sesame seeds through a mechanical cold-pressing method.
House of Veda's Organic pulses and beans are grown without using chemical fertilizer and pesticides, which retain the maximum nutrients possible during the process. The pulses and beans are naturally protein and fiber-rich, providing a healthy and wholesome meal option daily. The organic pulses and beans range includes Organic Moong Dal, Arhar Dal, Urad Dal, Masoor Dal, Green Moong Dal, Chana Dal, Rajma (Red, Chitra, and Jammu), Kabuli and Black Chana, and Lobia.
At the Launch, Amrinder Singh, director, House of Veda, said, "I am delighted to announce the launch of organic cold-pressed oils and pulses in our staple and packaged food category. As a brand, we are on a mission to uplift the lifestyle of people by providing them with healthy and clean products. It has been quite some time since people have started showing their inclination towards healthy eating and holistic living, so we are certain that these products will soon become our consumer's preferred choice."
Dawinder Pal, business head, House of Veda, said," This new category launch is based on our understanding of the preferences of our consumers for a healthy lifestyle. Entering this category will give a fresh perception of the values and character represented by our products. With this launch, we intend to expand our reach and continue to showcase our commitment towards our consumers."
Organic Groundnut Oil (INR 425), Sesame Oil (INR 675), and Mustard Oil (INR 399) come in one-liter packaging, whereas Organic Coconut Oil (INR 450) comes in 500ml packaging. The Organic pulses come in 500 gms, and 1kg packaging, and the price ranges between INR 80 to 275. These products are available in Delhi and Delhi NCR.
Currently, the brand is available in Delhi/NCR, Chandigarh & Tri-cities, and Ludhiana, and soon looking to expand in other cities.