The spices market has grabbed the eyeballs of several investors after Dabur is said to buy 51 per cent of Badshaha Masala which will eventually be 100 per cent within the next five years, as per the deal. But this is not the first time a multi-million company has gotten into the spice market which is primarily driven by the local players. The trend was first set by the companies ITC which acquired Sunrise foods (Spices) in 2020, and Marico.
But the trend of behemoth brands like ITC and Dabur getting into the spice market begs a simple question: Why?
Spice market at a glance
India has been known for its aromatic spices. Indian spices have a huge demand in the international market, as evident from the export trend. In a global market of spice worth $18 bn, the Indian market accounts for $5bn.
The volume of spices exported saw an exponential jump in the last decade. As per the data produced by the Spices Board of India, the volume of spices exported in ten years within the period between 2010-11 and 2020-21 went up by more than 3 times. Thus, the value of the spices imported also saw a massive surge. While in 2010, India exported spices worth Rs 6840 crore, by 2021, spices worth Rs 30973 crore were exported — reporting a rise by more than 4.5 times.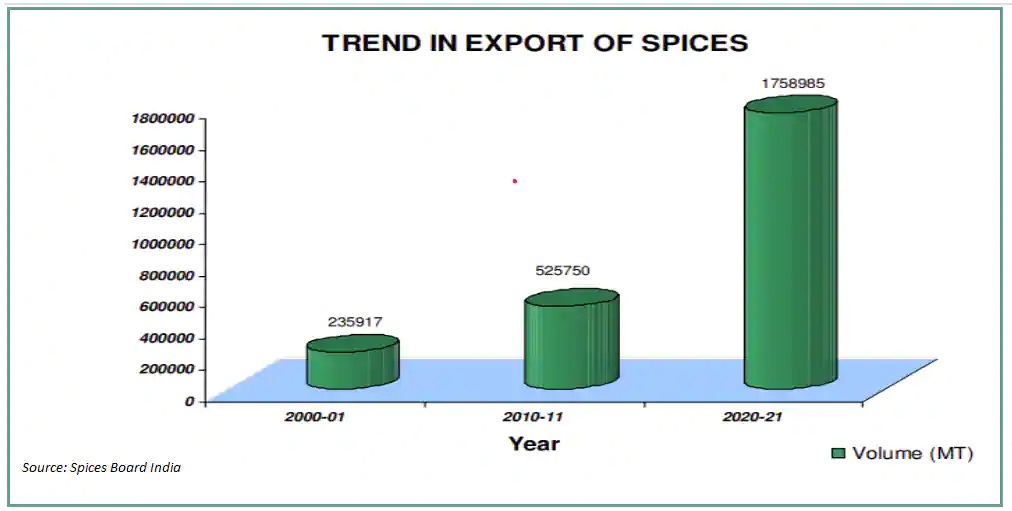 While spices are one of the most fragmented categories in India, the local brands change every 50-100 km, pointed out the branded player, ITC Sunrise. There are regional players which operate within a state or in a significant portion of the state. The biggest engine of growth is the conversion from unbranded and loose spices to branded products, according to the leading players.
As per a research paper published by AL Consulting, a business advisory and consulting firm, in 2020 the packaged spice market in India stood at more than Rs 40,000 crore, out of which 85 per cent worth Rs 335 bn was dominated by the Unorganized/Regional Players.
Branded companies in the spice market
Spice is one such market in India that has no MNC player, yet the spice market expands across borders. As pointed out by several analysts, big FMCG companies based in India are deliberately getting into the spice market gradually as there is enormous scope for revenue generation.
"They want to keep the growth engine running. Dabur was into Ayurvedic products and other food products. For Dabur, Marico, and ITC, spices are complementing a part of their food portfolio. There is a shift towards branded spices & masala has increased significantly with branded players holding region-wise leadership," said Aditya Kondawar, Partner & Vice President of Complete Circle Capital, who has done extensive research in the FMCG sector.
The revenue generation of ITC was almost comparable to a multinational company like Nestle in 2020 after it acquired Sunrise Masala. While the total revenue of Nestle for FY20 stood at Rs 12,369 crore, the revenue for ITC that year was around Rs 11,000 crore.
"ITC's acquisition of Sunrise spices was aimed at augmenting the Company's product portfolio leveraging the Company's institutional strengths including our agri-sourcing expertise, and cuisine knowledge among others. It was aligned with ITC's aspiration to significantly scale up its Spices business and expand its footprint across the country. Since then, the brand Sunrise has been making encouraging progress and has been expanded to other markets in the East/North East and is today amongst the top spice brands in the region," Piyush Mishra, Business Head, Sunrise, ITC Ltd.
According to Avendus, the branded market is Rs 25000 crore which is expected to double out to Rs 50000 crore by FY25. The total market size is Rs 70000 crore.
"The profit margin in this market is similar to or slightly better than our food business. This acquisition will be accretive towards our food business merge, both from a scalable perspective as well as margin perspective," said Ankush Jain, Chief Financial Officer, Dabur India.
Competition from local brands
The obvious question arises of how these brands can compete with the local companies as they are the ones dominating the market. To this, Dabur clarified that the presence of brands across the country helps a lot. Although, it will take a couple of months to get the sentiment of the masses and modify their marketing and advertising pattern accordingly if needed.
"After Covid, there has been a growing demand for branded products with consumers looking for packaged, hygienic, and authentic straight/pure spices even in rural areas. Moreover, Dabur has become a household name. So people would like to buy the spice products," said Jain.