Contract Manufacturing & Private Label (CMPL) Expo is one of India's largest contract manufacturing & private label supplier sourcing platforms that helped many businesses to suffice their procurement needs. The expo has created the name as Asia's largest FMCG own brand sourcing platform. The objective of the expo is to give a brand a platform to find contract manufacturers, raw material suppliers, and packaging partners under one roof.
CMPL platform connects retailers, D2C brands, contract manufacturers, ingredients and raw material suppliers, FMCG brand owners, specialty retailers, pharmacy chains, exporters, packaging suppliers, and other industry players. It has today successfully created an ecosystem for the industry to connect and drive business opportunities for all stakeholders on a single platform.
Vicky Menezes founded CMPL Expo with a vision to provide a single platform with all solutions in the contract manufacturing space, as it's not only the need of the hour but also the actual support system for many businesses to run smoothly. Together with Minesh Lodaya, co-founder of CMPL, they have taken CMPL to newer heights year on year. The inaugural show took place in 2019 with 40+ exhibitors and 1200+ trade visitors. Since then, it has grown consistently every year without having any impact during COVID, reaching its level of 180+ exhibitors and 7400+ trade visitors in 2022. The expo has gained such a massive success that the 2023 edition has a confirmation of 350+ exhibitors, and more than 12000+ trade visitors are expected to attend.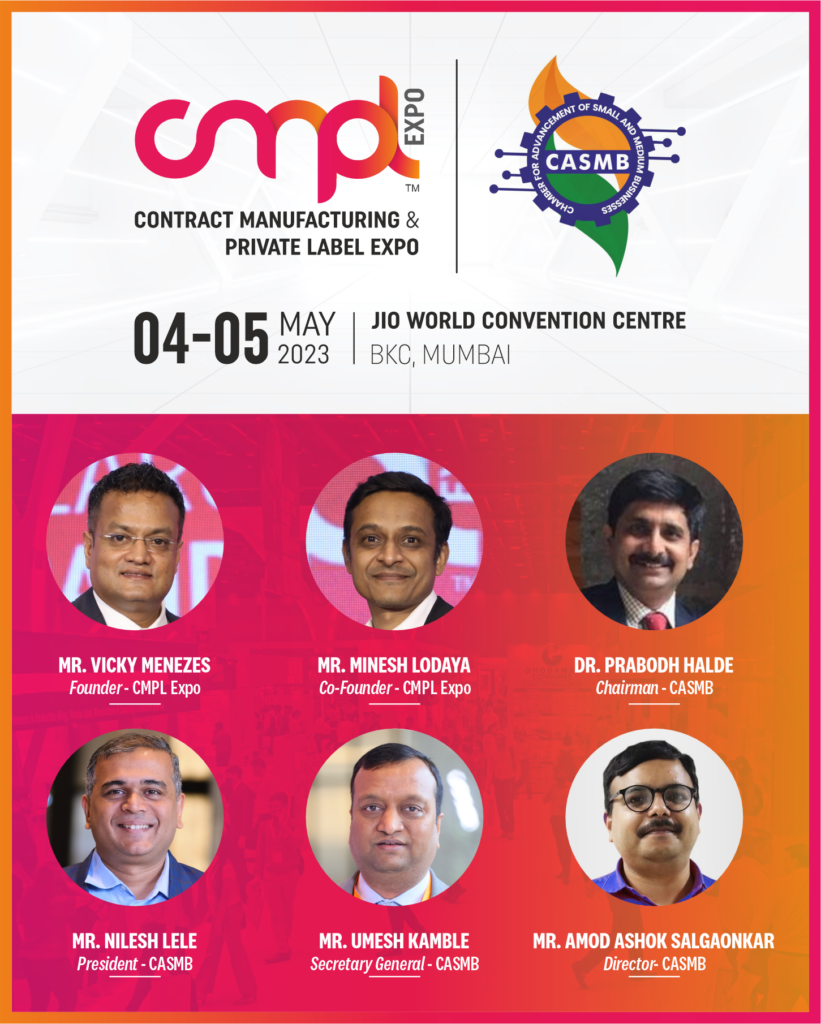 The Chamber for Advancement of Small and Medium Businesses (CASMB) was established in March 2021 and is becoming a solid support system for the growth and development of small & medium businesses in India. CASMB's objectives include the promotion of small & medium businesses by supporting them through various activities like creating good market linkages, supporting them to gain help from different ministries for business purposes, arranging industry interaction programs, giving guidance about new technologies through academia partners, providing capacity building through training, etc. CASMB has been a strong partner to CMPL since its first edition.
As MSMEs (Micro, Small & Medium Enterprises) are the heart of the Indian business ecosystem, it has been decided to showcase a dedicated pavilion under CASMB for the first time in CMPL 2023 to support micro & small businesses. Though micro & small businesses often have the right products & manufacturing capacity but need more connections to trade buyers. This is exactly identified by CASMB, which motivated them to take the lead to form a separate block at "CMPL 2023" through the support of CECL, where micro & small businesses can facilitate their contract manufacturing services to the large set of trade buyers, increasing the chances of them to raise the scale of the business.
India is holding the presidency of G20 this year and is among one of the largest economies in the world. India is a favorite destination for many foreign players & countries to invest in. All foreign missions based in India run their mandates per their objectives, and "CMPL 2023" is the perfect opportunity for foreign trade offices to showcase their strengths and create "Win-Win" situations with Indian partners. The "CMPL 2023," through the involvement of CASMB in collaboration with CECL, made the exclusive arrangement for the "Consulates" or "Trade Offices of other Countries" in the form of an "International Trade Desk / Pavilion," which can give leverage to encourage trade dialogues between foreign manufactures & Indian brand owners/trade buyers, etc. The conference agenda will also have a session on "Opportunities for International Suppliers in the Indian FMCG Industry".
CECL & CASMB are trusted partners to each other, which resulted in signing the MoU for "CMPL 2023" to make it more productive for all forms of businesses. The CMPL Expo will take place from 4 to 5 May 2023 at The Jio Convention Centre, BKC Mumbai, covering more than 2,20,000 sq feet of floor space. The said expo has been accepted by various businesses so that the repeat ratio of exhibitors is to the tune of 90%, along with the addition of new exhibitors with every edition.
Vicky Menezes, founder – CMPL Expo, said, "We have made the expo highly successful from nothing to something, and we are lucky to have sincere & honest partners with us who are holding our hands stronger because of that, we are growing multifold. Our relationship with CASMB has been very good since the first edition, and it's becoming more & more productive with every passing year. We feel great to have their genuine support for us as our CHAMBER & INTERNATIONAL PAVILION partner. CMPL 2023 is already our biggest-ever edition yet, and we are sure it will be a huge success."
CASMB president Nilesh Lele said, "We have been putting efforts across all levels for a long time to understand the challenges of MSMEs, and market linkage is one the critical aspect where they always require support. We have collaborated with many organizations so far and we work closely with various ministries and international organizations, but Contract Manufacturing is a big area that was not focussed well, and here there is a large scope for MSMEs if they get the right platform. CMPL is one of those fine & trusted platforms. We will not leave any opportunity to support MSMEs where they can benefit."
Vicky, Minesh and Nilesh commented that we have a great team with us and, particularly the young, energetic professionals like Amod Ashok Salgaonkar, director, CASMB, who came from the background of not only the food industry but also of modern trade, cash & carry, sustainability, ESG, export & import, etc. which help us to work across many verticals, new themes and concepts at the same time without diverting our goals.
President of CASMB and one of the highly popular food professionals in India Dr Prabodh Halde and CASMB's secretary general Umesh Kamble mentioned and agreed that CECL & CASMB has formed a strong unity to make the highly productive ecosystem for the benefit of all stakeholders in a sustainable way. They further commented that they are working on more such projects as well.
To know more about "CMPL 2023", professionals & organizations, please feel free to reach out to Vicky Menezes (vicky@cmplexpo.com), Nilesh Lele (president@casmb.org.in) and Amod Ashok Salgaonkar (director@casmb.org.in).
CECL = CMPL Expo Connect LLP, CASMB = Chamber for Advancement of Small & Medium Businesses, CMPL Expo = Contract Manufacturing & Private Label Expo