Since time immemorial, experimenting with food to produce newer, tastier, and richer palates has been a ubiquitous fascination and obsession of humans. Often, tastiness is inversely proportional to sustainable eating. Bengaluru-based Shaka Harry merges the two to prepare lip-smacking snacks that are plant-based meaty treats. These make for delicious, nutritious, and easy-to-cook substitutes for animal-derived meat. Founded by Anand Nagarajan, Sandeep Devgan, Hemalatha Srinivasan, Ruth Renita, and Anoop Haridasan, Shaka Harry is a subsidiary of Liberate Foods.
Sandeep Devgan, co-founder, and investor at Liberate Foods (Shaka Harry) described how the company was founded. His partner, Anand Nagarajan, was intrigued by the plant-based meat he tasted in San Francisco a few years ago. So, during the COVID pandemic, after brainstorming and using the technology they had in hand, the plan to launch Shaka Harry was born. Talking about the initial stages, he said "We started with just seeing if we could do it. And we could create products that were much, much better than what was in the market then. Our anchor and I will say our mission alignment was always to create a product that is the best-tasting product."
Shaka Harry offers a wide range of products for consumers, that include plant-based breakfast essentials like chicken stuffed paratha, mutton keema, and mutton stuffed paratha, everyday meal options like chicken burger patties, and celebration food items like chicken fries, chicken hot and spicy nuggets, chicken momos, chicken nuggets, mutton samosa to suit all palates. Regarding their latest product offerings, Devgan said, "We started with the snacks format and now we have developed products that are under full meals, we have biryani, curries, retort curries, basically shelf stable curries, as well as shelf-stable biryani."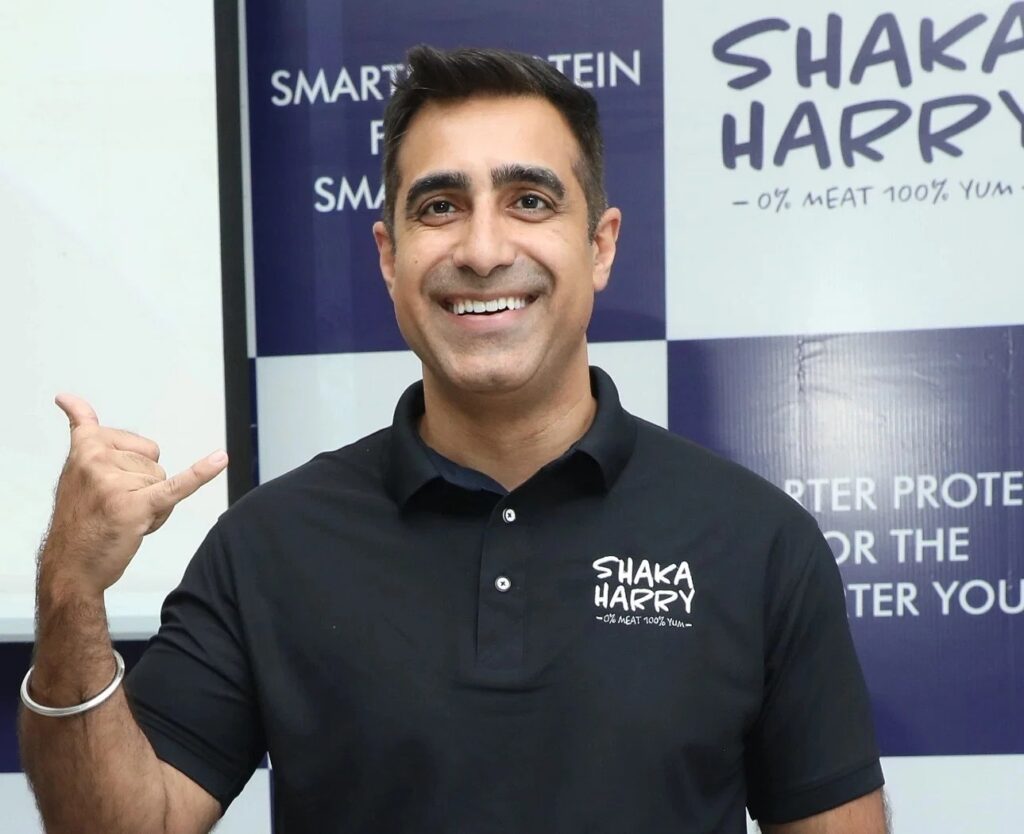 The top-selling plant-based meat brand in India
Shaka Harry products are available for purchase online as well as in stores across India. Popular channels such as the Shaka Harry website, Big Basket and Vegan Dukan are a few websites that sell the company's products. According to Devgan, based on the data point they receive, Shaka Harry is the fastest-selling plant-based meat product on all online channels. "We are the fastest growing plant-based meat company in India. So that means we're doing something right. And by that, I mean our products taste really good. As for the competition, we have some similar form factors. But I think our products are anchored on taste," he added confidently.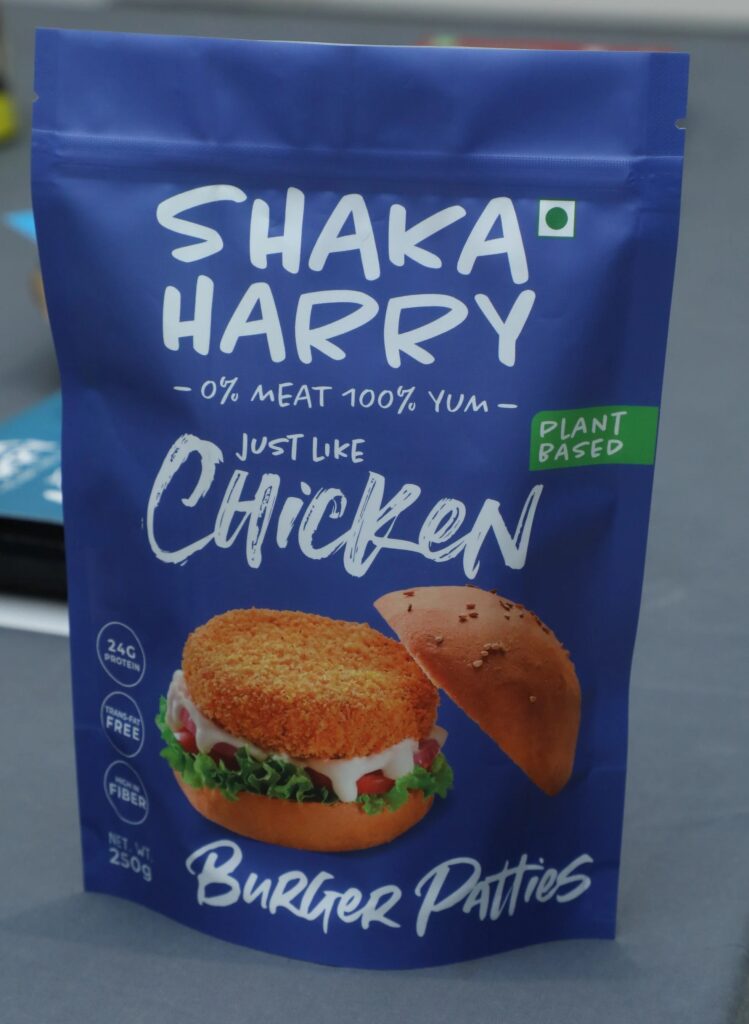 A cleaner and healthier alternative to animal meat
Being the father of a girl, Devgan believes it is better to avoid consuming chicken since it often contains hormones to induce rapid weight gain and muscle mass. This can lead to health issues and cause kids to reach puberty early. Talking about why Shaka Harry products are better, he said, "Our products are fortified, we have no E numbers, and use natural hydrolyzed vegetable protein for the reaction flavor sequence to create the taste tools. We try to be as clean label as possible. Our product is healthier if you compare chicken to our plant-based chicken."
Taking the "R&D first" approach to creating products
Devgan looks after the R&D division at Shaka Harry and vouches for the fact that all their products go through rigorous trials before being launched. The R&D team continuously works on creating new products, taste profiles, and form factors. The final stamp of approval comes from their culinary expert, Manu Chandra, who is one of the top five chefs in India at the moment and an investor in the company.
Describing their approach to creating products, Devgan said, "We look at it like a pyramid. At the bottom is the protein source which can be mushroom, pea protein, soy, rice, and protein isolates. On top of that, there are enzymes, binders, and yeast extracts for mouth fullness. Right on top is the top note for flavor, which we have owned. That happens due to our partnership with Stonefield Flavors and Exter. Our approach to business is that we have to protect our tastes and our experience." Stonefield Flavours was launched by Devgan in 2018 and is one of the fastest-growing Indian multinational flavor companies. Stonefield has an equity partnership with Exter, the Netherlands that further enhances technical capabilities in savory taste and global reach.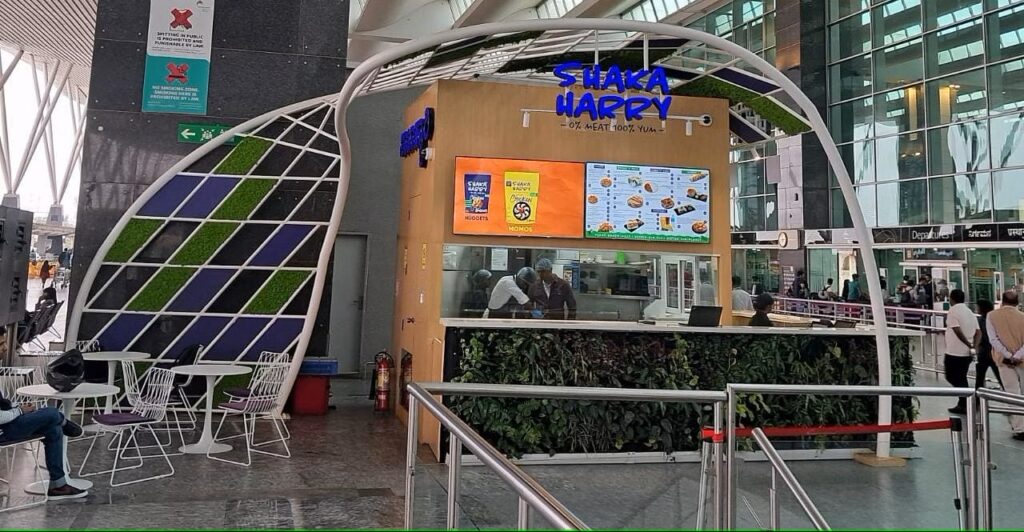 Recently, Shaka Harry came up with an Experience Center at the Bengaluru airport to get consumers to taste their products. Elaborating on the reason for this, Devgan said, "Before we launch any product, we can put it on our menu in the airport store. This way, we can actually have consumers start tasting it and give us feedback."
The road ahead
In India, the flexitarian diet is slowly gaining popularity among consumers due to growing health and sustainability awareness. This gives the plant-based meat sector a huge opportunity to experiment and expand. Besides plant-based meat, Shaka Harry wants to focus on plant-based smart protein in the coming times. "We are working on our plant-based beverages and freeze-dried products, which can be like noodles or anything where you just add water. Our products have to taste good and be convenient for the consumers," Devgan signed off.